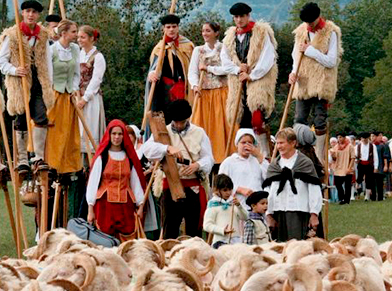 Craft market
Food and manufactured market proposed by local producers and craftsmen.
Several shepherds and shepherdesses make you taste cheeses' tommes of ewe and goat, fruit of their work. The honey of our mountains and wines of Jurançon, delicatessen, Basque cakes and so on…
Return of the mountain pasture
The transhumance which is proposed for the festival of the Shepherds is a small travel of about fifteen km of a flock of sheep coming down the high valley of Aspe to Aramits.
The crossed sites offer a magnificent landscape of Pyrenean Piedmont.
The festival of the Shepherds, since its creation, wishes to emphasize and to make the authenticity of this pastoral life known, as well as the link of the shepherd breeder with its animals. During the competition we can only admire the know-how obtained by a patient training, notice the very beautiful capacity of the animal to be immediately answered the expressed orders. And even better, more hardly and much stronger, we shall perceive the very important complicity of the dog with its master.